Bodycombat (Les Mills Inc.)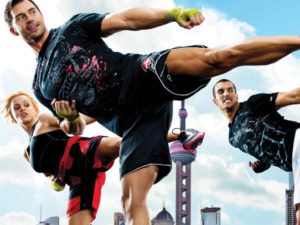 is a 55 minute high intensity workout based on martial arts; kickboxing, karate, mma and capoeira. It is a non-contact workout on music and is also known as a modern version of Tae Bo or Cardio Kickboxing. This workout tones your arms, legs, back, shoulders and provides phenomenal core training. Bodycombat is a Les Mills program (like BodyPump) and your instructor is a certified Les Mills BodyCombat instructor.
For who: Everyone who want to burn calories on a save and effective manner. It is an intense workout but can be done with safety options (no jumps or deep squats). During a class you burn 500-700 calories.
Every 3 months a new release of BodyCombat is launched